News
Sonko Forced To Delete Viral Video Of Kid 'Smoking Weed' After Uproar And Demands For Parents Arrest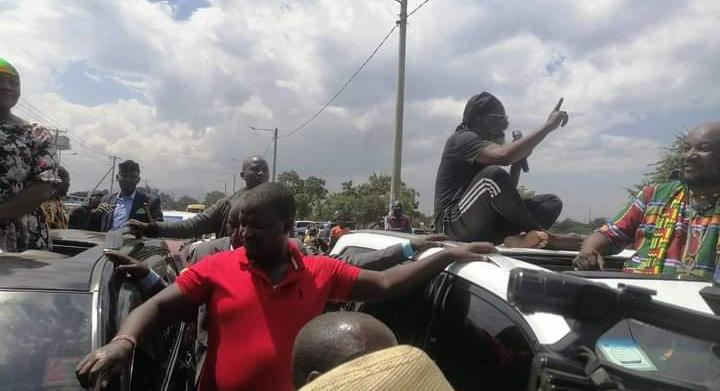 In what seems to be propaganda aimed at tainting the Roots Party Presidential candidate George Luchiri Wajackoyah's "weedonomics" or rather ideology ahead of the August polls, some Kenyans have taken things too far by involving an innocent soul in executing their agenda or so to say.
We say this because there's a viral video that's been trending on the internet in which a kid who looks to be around four years old was recorded smoking "weed" or rather a paper that was folded to look like she was smoking marijuana as those who were recording her linked her actions to Wajackoyah's campaigns and ideology.
In the video which was even shared on Facebook by the former Nairobi Governor Gideon Mbuvi alias Mike Sonko, the kid was kind of being interviewed by some adults (a man and woman) on what she thought life will be should Wajackoyah win the forthcoming Presidential election.
"Who are you emulating?" The kid who was smoking the folded paper was asked and she replied amid laughter that "Wa-jacko-yah".
The adults again asked the kid that "show us how you will be doing it should he win."
In her reply, the kid took a deep puff and exhaled a thick blue smoke as captured in the screenshots below.
Surprisingly, the kid didn't even show any sign of being choked by the smoke and a lady could be heard expressing or rather faking her amazement for what she had seen the kid do.
As you can see in the screenshot below, Mike Sonko had captioned the video that "surely, what is this?
Does Wajakoyo's ideology state that we plant bhang as a cash crop to turn around our economy or teach our children to smoke bhang?"
The video elicited outrage among Kenyans with a majority of them calling on the arrest of her parents and the former Governor was forced to take it down after a few minutes.
From the comments below (that we captured before the video was taken down), one Kathyrn Wayne wrote that "a very serious action should be taken to whoever has done this to this innocent child. Very annoying and they should be ashamed of themselves."
Margaret Mukiri and Nyeri Papetual had commented that "this child should be taken away from the parents or guardians or those responsible for this video" and "that baby should be rescued. Not funny at all" respectively.
Read through some other comments below: